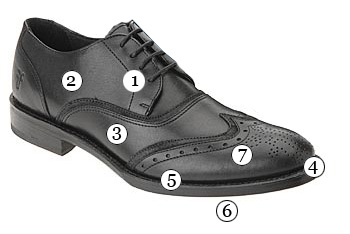 Every guy needs at least one good pair of Dress Shoes
1)Laces: Its inescapable that a lace-up still looks better with a suit than a slip on
2)Color: Black is dressier than Brown. You Can wear Brown Lace-ups with Navy &Charcoal
3)Material: Glossy Leather is a fail-safe choice
4)Toe: The elongated Toe is classier than square
5)Soles: The soles of the shoes can be a big quality indicator. Yours should have stitched (rather than glued) soles, be made out of leather, and at least a quarter-of-an-inch thick. Also look at the welt—the seam where the sole meets the upper part of the shoe. A thin sole is the hallmark of a cheap shoe – plus, it not only looks cut-rate, it wears out more quickly. Yours should be at least a quarter-of-an-inch thick and preferably leather, not rubber.
6)Right fit: make sure that with oxford-style shoes, you can't lace them so tightly that the shoe edges will meet; if you can, get a narrower size.
7)The Welt: Well-made lace-ups should have a close welt – the seam where the upper meets the sole and creates the outer edge of the shoe. It should be visible, but it shouldn't extend so far past the edge of the shoe that it creates a ledge.
Excellent Quality Vecci Dress Shoes|Comfortable|Gorgeous|Attractive to wear
There is nothing that will make you look more stylish and give you a confidence boost like a nice pair of shoes. Every man needs a few pairs of great dress shoes for the unavoidable occasions that will call for them. If you're a man who knows how important quality dress shoes are, then you probably don't need to read further. But for everyone else, this may be one of the most important fashion articles you read. What you have on your feet can make or break any look. It doesn't matter if you have the most amazing suit in the world, if you have bad shoes, you might as well roll around in a puddle of mud. Shoes can get expensive, but if you're smart about your choice, you'll be able to wear them for years. Not only that, but the confidence you get every time you put them on will be well worth the price. Whether for business or for that hot date, nothing will make you look more successful or sexy. Get yourself a pair of high-quality shoes and tell me if you don't get compliments.
How Much Should I Spend on Shoes? With shoes, you really get what you pay for. The minimum you should be spending is around $200-300. If that's too much for you, just remember the rule of "cost per use." The shoes will last you years, if not decades, and the amount of use you'll get out of them will exceed the price. If you need dress shoes for work everyday or you go out on the weekends a lot, then a good pair of dress shoes is of monumental importance to your outfit.
Fit Tips For Men Dress Shoes
8 Fit Tips for Shoes:
Shop after you have been out and about a bit, since feet do swell. This way you will get the most realistic measurement.
2. Shop only at a store that have measuring device for determining your exact foot size|or they have your size to ty on
3. Almost everyone has one foot larger than the other, usually it is the right foot; fit the shoes to the larger right foot. Do not rely solely on the size you have always worn. Different makes can vary significantly from each other, even though the numeric size is the same. Always try them both on, walk around in them, and buy them by how they feel on your feet – not just by the size.
4. Allow a half-inch between the tips of your toes and your shoes. If the toes of the shoes are pointed, be certain there is enough room for your toes to move comfortably. Shoes should never be tight over the instep of ball of the foot. You should be able to stick your index finger in the back for wiggle room.
5. When considering an oxford-style shoe, you should not be able to tie the laces so tightly that the two edges of the shoe meet. If you can, then a narrower size is probably better for you.
6. Buy leather shoes. Though more expensive, because it is porous, leather is the best for the health and comfort of your feet. In leather shoes the foot can breathe, discouraging the build-up of bacteria.
7. Shoes should fit from the moment you try them on. Do not accept the salesperson's, "Once you break them in they will be fine." The man-made materials used today do not stretch significantly, but leather adapts to your foot shape quite well.
8. When shopping, wear the same type of sock you will use with the dress or sports shoes. Too heavy or too thin socks will distort the fit.
The Value of Shoe Trees The average man produces up to a half pint of perspiration per day and most of it is absorbed by the leather lining and uppers of the shoe. Shoe trees draw the moisture away from the leather allowing them to dry more efficiently and to retain their shape. Also, by discouraging bacterial build-up, shoe odor is kept in check. Many experts claim that the average man would double the life of his favorite pair of shoes by simply putting a pair of shoe trees into them as soon as he took them off at the end of the day.